The primary goal of chiropractic care is directed towards maintaining, improving, restoring or enhancing the health of the patient through the use of chiropractic adjustments and related therapies. Treatment is often directed to areas of soft tissue injury or decreased movement in the joints of the body, particularly the spine, which can create a reaction in surrounding tissues (ligaments, muscles, and nerves) resulting in pain, dysfunction and muscular spasm.
Chiropractors are also trained to utilize other therapies, including Cold Laser Therapy (physical therapy) and Kinesio Taping (sports taping). Additionally, Chiropractors encourage health promotion through exercise, dietary and nutritional counselling, and lifestyle consulting. Chiropractors assess and diagnose disorders and dysfunctions of the neuro-musculoskeletal system related to the spine and extremities and provide treatment, rehabilitation and, where possible, prevention of those disorders. This holistic approach is done without the use of drugs or surgery.
Chiropractic manual therapy, primarily utilizing manipulation otherwise known as adjustment, is one of the safest choices for treating neuro-musculoskeletal disorders such as neck, back pain and headaches. An adjustment is a carefully directed and controlled movement to restore spinal mobility.
Chiropractors treat not only the pain but also the condition causing it, to prevent future problems.
First Visit
Every patient undergoes a one-on-one consultation with the Chiropractor on their first visit. The Chiropractor and patient will review the patient's health and medical history, and questions and concerns raised during the visit.
Doctors of Chiropractic are better educated, better trained and more experienced at dealing with neuro-muscular and musculo-skeletal dysfunctions than any other discipline in health care. StudioHealth – ChiroWorks hopes to educate people to realize that they need not go to their general practitioner for conditions and injuries that the team of health professionals at StudioHealth – ChiroWorks can treat more efficiently with better results.
Necessary rehabilitation, nutrition, personal training, and different allopathic modalities will be incorporated into StudioHealth – ChiroWorks and its treatment plans.
The 1993 Manga Report, an independent study based on analysis of scientific research on low-back pain in Ontario, Canada, recommended that management of low-back pain be undertaken not by medical doctors, but by doctors of Chiropractic, who receive intensive education about specific spinal problems.
An April 2000 Ipsos/Reid survey revealed that "half of Canadians have by now used complementary health care at some point in their lives and chiropractic is clearly the most popular choice. Six in ten Canadians who have ever used a non-conventional medicine or practice have gone to a chiropractor and 11% of Canadians visit a chiropractor regularly. (Alternative Medicines and Practices. Canadian Lifestyles II. Ipso/Reid. 2000 July/August; 15(4): 85-93).
Did you know that the pain you experience in your back, hips, knees, ankles or feet may be due to structural problems in your feet?
Your feet are a complex system of 52 bones, 66 joints, 214 ligaments and 38 tendons and muscles. This makes up 25% of the bones in your body. Even a small problem in your feet can impact and stress your body. This stress accumulates with every step you take. For many people, pain may start from the ground up. After a thorough gait analysis and evaluation we can determine if Prescription Orthotics can help.
Gait Scan
The Metascan System mat goes above and beyond traditional gait analysis devices, assessing bilateral pressure distribution during the static stance, as well as capturing dynamic function when a patient is walking or running. One can also use the Metascan System mat to obtain a postural scan to observe the patient's postural movement over time.
In addition to scanning patient gait, the Metascan mat creates a Dynamic Gait and Pressure Analysis Report. The report contains 2D and 3D color graphics and images measuring kinetic pressure, gait abnormalities and the vertical load in the most important segments of the foot (lateral heel, medial heel, five metatarsal heads and the hallux).
Many Extended Health Plans cover fees for chiropractic services and orthotics. Your employer will be able to supply you with this information.
The Workers Compensation Board will provide coverage for office visits and x-rays for work related injuries. Injured persons should consult their doctor of chiropractic immediately upon injury.
ICBC coverage is provided for office visits and x-rays for injuries resulting from motor vehicle accidents. For more information, contact our office or your ICBC adjuster.
The Medical Services Plan of British Columbia (MSP) provides coverage for people on premium assistance (individuals or families with combined revenues less than $24,000 and adults over the age of 65).
What Conditions can Chiropractic Help With?
The following conditions may respond to Chiropractic care without drugs or surgery:
Low Back Pain
Disc Injuries and Herniations
Sciatica and Leg Pain
Motor Vehicle Accidents
Whiplash and Associated Pain
Migraines and Headaches
Sports Injuries and Sports Performance
Neck Pain
Work Place Injuries
Arthritis
Carpal Tunnel Syndrome
Numbness
Shoulder and Arm Pain
Pinched Nerves
Foot, Knee and Hip Pain
Poor Posture
More and more women are discovering the benefits from chiropractic care before, during, and after pregnancy. During pregnancy, women may experience stresses to the body stemming from postural strains, pelvic changes, hormonal changes, and abdomen protrusion, potentially causing uneasiness during everyday tasks and activities. Chiropractic care for pregnant women is safe for the mother and the child; Chiropractors are highly trained to work with pregnant women and are cautious of unnecessary pressure.
What is Cold Laser Therapy?
Cold laser or Low Level Laser Therapy (LLLT) is the application of laser light over injuries, lesions, burns, pain, inflammation and other disorders to stimulate healing within those tissues and cells. It has been studied for over 30 years and is now commonly used worldwide to successfully treat many kinds of musculoskeletal injuries, repetitive stress injuries and for acupoint therapies because it promotes healing and tissue repair. LLLT has also been found to be an extremely successful treatment for alcohol and drug addiction, weight control, and smoking cessation.
How do Cold Lasers work?
When laser light is absorbed by a living tissue, it triggers biological reactions in the cells. Chemical substances are produced, released and carried by blood and lymphatic flow to other parts of the system. In this way the effects of cold laser light may not be only local, but can also achieve wide systemic effects. Here are some of the specific physiological responses:
Reduction in pain by causing the production of natural pain killer endorphins.
Reduction in inflammation by suppressing inflammatory enzymes that create swelling, redness, pain, and heat and enhance the release of anti-inflammatory enzymes.
Enhanced lymphatic drainage, which increases circulation and speeds healing.
Release of tight muscles that create chronic pain, joint problems, and decreased mobility.
Faster bone repair by stimulating fibroblastic and osteoblastic proliferation.
Low level lasers in the correct frequency appear to be anti viral and antifungal.
What Health Conditions can Cold Laser be applied to?
Cold Lasers may work for acute or chronic injuries, pain or inflammation. These are some of the conditions where it can be helpful:
Arthritis
Carpal tunnel syndrome
Headaches and migraines
Back, neck and shoulder pain
TMJ/TMD
Burns and cuts
Sprains
Tennis Elbow
Irritable Bowel Syndrome (IBS)
Chronic Fatigues
Fibromyalgia
Migraine headaches
For more information, visit the Bioflex Laser Therapy.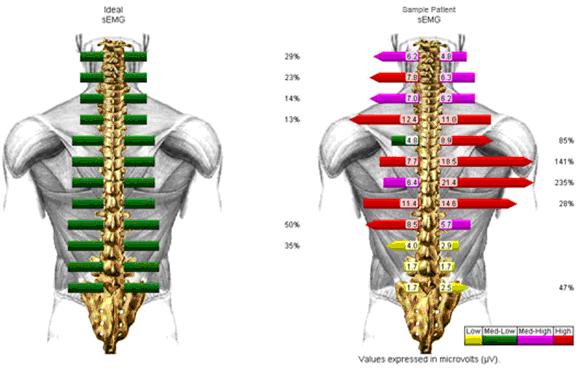 The
MyoVision scan
is a safe, painless and non-invasive computerized spinal examination that creates a supportive visual of the spine and nervous system within 90 seconds. The readings through the sensing device called MyoVision sEMG recognizes the emitting muscle voltage along the spine. Compromises to spine functionality (spinal misalignment) and the corresponding nervous system can be determined and the results can be shown on a spinal report. This can aid in identifying problematic areas.
Chiropractors use the MyoVision scan specifically to identify relationships and patterns between muscles that can be shown on an easily understood image of the muscle activity.  Correlating the results on the image with palpation felt by the doctor is also a useful way of viewing the patient's progress.
Kinesio Taping (Sports Taping)
Kinesio taping is an effective form of continuous care that helps eliminate stresses and strains. The hypoallergenic tape is made of 100% acrylic glue and is safe to use. Kinesio taping is not exclusive to sports athletes. In fact, kinesio taping is widely used by a variety of patients as the tape is designed to reduce discomfort stemming from a wide-range of reasons. The tape works to improve structural positioning (including posture), neurological improvement, and improves microcirculatory flow. In addition, the tape is used to reduce inflammation due to injuries and discomfort which allows the body to recover promptly.
What Health Conditionheas can Kinesio Taping be applied to?
These are some of the conditions where Kinesio Taping can be helpful:
Arthritis
Carpel tunnel syndrome
Tennis Elbow
Edema
Plantar Fasciitis
Sprains, strains (muscle, ligament, joint), swelling
Improve athletic performance
Disc injuries
If you have any questions about Massage Therapy, please contact us at [email protected]